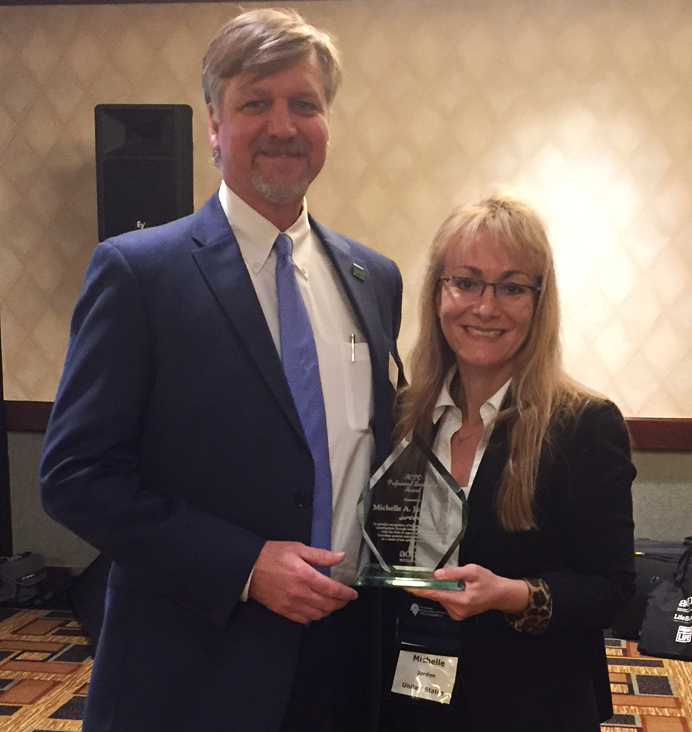 VIENNA, Va. — October 13, 2016 —
The Association of Organ Procurement Organizations (AOPO) was proud to present the AOPO Professional Leadership Award to Dr. Michelle Jorden, assistant medical examiner and neuropathologist for the Office of the Medical Examiner-Coroner of Santa Clara County. AOPO Chief Executive Officer Elling Eidbo presented the prestigious award on behalf of the Association at the 2016 National Association of Medical Examiners (NAME) Annual Meeting in Minneapolis, Minnesota.
The Professional Leadership Award recognizes a medical examiner or coroner who has demonstrated outstanding leadership, innovative practices, and success to make a positive impact on the field of donation and transplantation. Dr. Jorden was nominated by Donor Network West, the organ procurement organization (OPO) serving 40 counties in northern California and Nevada.
"Dr. Jorden has been a strong proponent in making donation possible even in cases in which there is no legal next of kin, which is a classification that many county agencies have historically struggled with," said Nick McGuire, who nominated Dr. Jorden on behalf of Donor Network West. "Without her direct involvement in providing administrative authorization, there would be no opportunity to give the gift of life to those in need."
During a speech introducing the award, Eidbo lauded Dr. Jorden for her outstanding commitment to making organ, eye and tissue donation possible in even the most challenging of cases. Under her leadership, the Office of the Medical Examiner-Coroner of Santa Clara County had zero organ restrictions for 2015-2016.
"When over 120,000 people are waiting and hoping for a life-saving organ transplant and hundreds of thousands of others can benefit from cornea and tissue transplants, a multidisciplinary team must come together to maximize the passing of those precious gifts from one human being to another," said Eidbo. "When one critical member of the team is a medical examiner or coroner who stands firm in support of donation by working in partnership with organ procurement organizations, we can indeed, together, maximize the precious gift of life."
###