---
National Minority Donor Awareness Month
Joe Ferreira, AOPO President and Nevada Donor Network President & CEO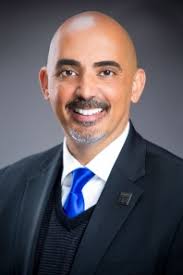 Briefly describe yourself and the role you play at your organization
I've been part of the donation and transplantation community for more than 23 years. I consider it a true blessing and honor every day to serve our lifesaving and healing mission on behalf of the heroic donors and those who desperately wait. I began my career at the University of Miami's Life Alliance Organ Recovery Agency (LAORA) where I spent 14 years in various roles. For the last 7 years of my time at LAORA I was the Director of Clinical Operations and Donor Family Services until I took the role of President and CEO of the Nevada Donor Network (NDN) in 2012. In my current role at NDN, I'm responsible for leading a diverse team of passionate and dedicated professionals who serve more than three million Nevadans and thousands more around the country in need. Nationally, more than 110,000 Americans of diverse backgrounds — including 650 Nevadans are counting on us for their second chance at life and health.
As a person of color, what did your path to this position look like? What struggles or challenges did you face during your career?
I grew up watching my father, a physician who immigrated to the United States from Brazil, and my mother, a school teacher also from Brazil, face tremendous struggles to learn a new language and raise a family while treating others with kindness, respect and compassion; far better than they were treated at times. I always wanted to follow in my father's footsteps and while pursuing my dreams of becoming a Physician like he is, I was introduced to the donation and transplantation community which changed my career path. I started as an entry level technician at the University of Miami's LAORA and worked my way up over time. During my challenging but very rewarding journey I sometimes dealt with mistreatment from certain physicians and healthcare leaders who were less than likable and could sometimes be downright disrespectful — but, they were far outnumbered by those who believed in me and mentored me. Thanks to my parents and other mentors I always chose to be the better person and not let the negativity deter my resolve. I learned a great deal from all people I encountered; even those who were challenging to deal with. However, I molded my actions and reactions after the ones who encouraged and inspired me while learning lessons from those who did the opposite.

What advice would you give someone looking to follow a similar career path as you?
I was fortunate to be in various educational and professional environments which valued a good work ethic, personal accountability and humility throughout the various positions in my career. Thanks to the way I was raised by my parents, I was willing to work harder than everyone else and better myself by pursuing further education. My co-workers, colleagues and mentors supported my growth because I was open to and listened to their advice. It is critically important to always pursue opportunities to learn and grow, no matter what stage a person is in throughout their career. Whether it's advanced coursework or reading a good book in your spare time, there's always more to absorb and learn in life regardless of age, background or status. Surround yourself with a diverse group of highly motivated and talented people who work hard. Get the right people on the bus — meaning hire for culture first and skill second. The latter can be taught. Once you have the right people in the right places, your sole focus should be to treat them well.
What efforts are you planning to make during your presidency at AOPO in regard to multicultural outreach?
During my AOPO Presidency I plan to work hard to restore our voice in the community as the industry leader by actively listening and striving to unify our membership with inclusion from people of all backgrounds and roles. I intend to work with the membership to drive deliberate action to install diversity in AOPO initiatives while being more receptive to the criticism of our stakeholders in order to learn from them; especially in the underserved and disadvantaged communities. As an example, I will be encouraging more OPO membership involvement and active participation in essential groups such as the Association for Multicultural Affairs in Transplantation (AMAT). If we truly wish to drive change in this respect we must be willing to change and be decisive about actions that will encourage inclusion. The deeply rooted mistrust and rampant misinformation about donation in multicultural communities requires that we take time to listen and that we share best practices around dispelling those myths. Together, we must continue learning and improving our multicultural outreach efforts with an open mind.
How can OPOs like Nevada Donor Network participate in National Minority Donor Awareness Month?
Industry involvement by OPOs in National Minority Donor Awareness Month can be accomplished several different ways. We have organizational entities like the AMAT which focus on making donation and transplantation a conversation in all communities. They have various tools and strategies to share along these lines which ALL OPOs should take advantage of. In this day and age, OPOs who are not part of this powerful industry group driving diversity should thoughtfully consider joining. Donate Life America also provides support and resources for national observances such as National Minority Donor Awareness Month. OPOs should actively listen and engage with their multicultural communities by partnering with colleges/universities and seek support from their local DMV offices to reach diverse populations. Additionally, we strive to empower elected officials, local chambers and media contacts with important information to push the message of donation and transplantation out to those who need to hear it. This strengthens support for donation and transplantation in our diverse individual communities to foster improved trust. We must lean on our community leaders to share the message as trusted advocates. It's vital that OPO leaders invest in and seek out a diverse team– empowering and elevating their growth into leadership roles.
How can OPOs ensure they have a diverse candidate pool and incorporate diversity and inclusion into the workplace?
At Nevada Donor Network we have learned that our performance is only as good as our strategy and the people executing that strategy — including managing the hiring process to deliberately include diverse candidates. By developing a targeted and well-planned strategy to recruit, hire and promote a diverse group of candidates, the OPO should be representative of the community they serve. This builds trust within the respective communities and with those they serve. Diversity/inclusion training is another tremendous step for any organization. We must remain open to listening, engaging and taking action to ensure we are creating an environment in which diversity is embraced and encouraged.
###
National Minority Donor Awareness Month is a collaborative initiative of the National Organ, Eye and Tissue Donation Multicultural Action Group to save and improve the quality of life of diverse communities by creating a positive culture for organ, eye and tissue donation. National Minority Donor Awareness Month stems from National Minority Donor Awareness Week, founded in 1996 by the National MOTTEP to bring heightened awareness to donation and transplantation in multicultural communities – focusing primarily on African American/Black, Hispanic/Latinx, Asian Pacific Islander and American Indian/Alaskan Native communities.
The National Multicultural Action Group includes the Association for Multicultural Affairs in Transplantation(AMAT), Association of Organ Procurement Organizations (AOPO), Donate Life America (DLA), Health Resources & Services Administration (HRSA), National Minority Organ Tissue Transplant Education Program (MOTTEP) and National Kidney Foundation (NKF).