1 / 5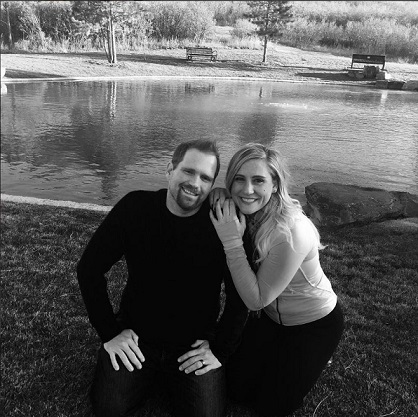 Courtney Schaiper and her brother Brian 2 / 5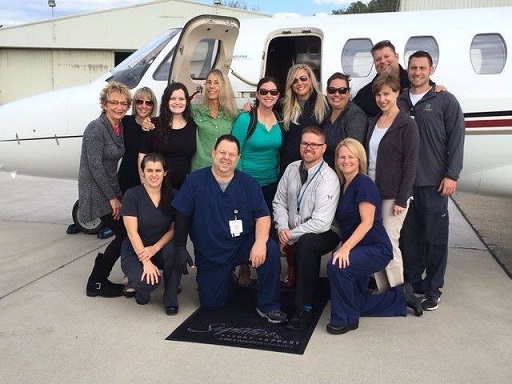 Shaiper with colleagues from LifeCenter and Indiana Donor Network 3 / 5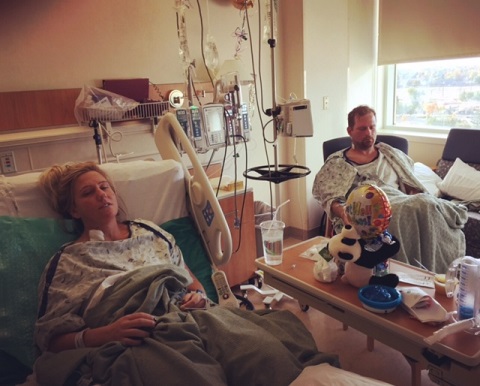 Courtney and Brian after surgery 4 / 5
Brain escorting Courtney out of the hospital 5 / 5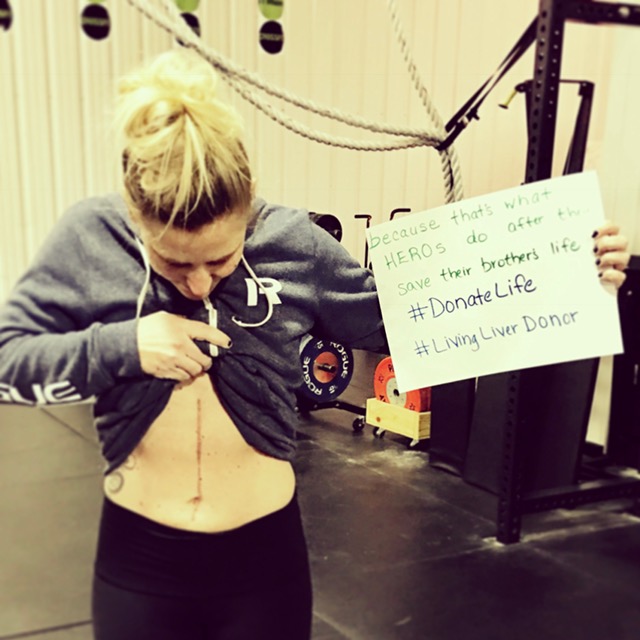 Courtney Shaiper posing for a picture with her scar ❮❯
Photos courtesy of Courtney Schaiper and LifeCenter Organ Donor Network.
LifeCenter Organ Donor Network (LifeCenter), Indiana Donor Network and Donor Alliance of Colorado played a part in a young woman's journey to provide hope for her brother.
While donation and serving families drives all of our respective missions and is what we do every day, this quickly evolved into something different as the donation involved a colleague.
Courtney Schaiper, a Donation Coordinator since 2013 at LifeCenter, located in Cincinnati, Ohio, learned that her older brother Brian was in need of a liver transplant after being diagnosed with an abnormally large hemangioma growing on his liver that weighed 14lbs. The married father of two who resides in Castle Rock, CO, was more than a brother to Courtney. Growing up, Brian was a father figure to his sister after their father passed away suddenly when they were very young. Courtney felt strongly that it was now her turn to be there for him. She began the process of extensive medical testing to find out if she could save her brother's life.
On August 30th, 2016 in the midst of being out on a donor case, Courtney was notified that she was a match for her brother. During this time, LifeCenter contacted Indiana Donor Network about Courtney's decision to donate and Indiana Donor Network participated with its aviation services to help Courtney and her family travel between Cincinnati and University of Colorado Hospital, where the transplant was performed.
"When you're working to save and to enhance lives, you become invested in the mission, in the donor families and in the team around you," said Steve Johnson, chief operating officer of Indiana Donor Network. "Together, amazing things happen and an extended family is formed. In this particular case, we were able to help one of our colleagues. We're proud that our aviation program could play a small role in this incredible story and that we could support our partners in Ohio and Colorado."
Donor Alliance worked initially with LifeCenter to strategize about media and then once the donation occurred on October 18th, 2016 they coordinated with media outlets both in Denver and Cincinnati to provide up-to-date information and interviews which resulted in coverage of this incredible story in both markets.
"Compassionate and caring people are the foundation of all of our organizations," said Barry Massa, executive director of LifeCenter Organ Donor Network. "Courtney's decision to help her brother, and then our partners in the donation community stepping up to support her, were yet another reminder of how we each live this mission to serve others by facilitating organ and tissue donation."